Hi gang, Trudy here!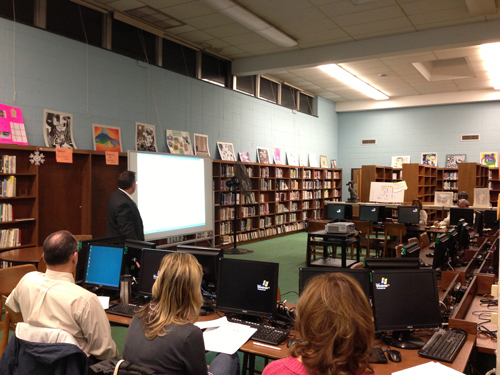 Dave Lauer presents
Treasurer Briefcase's Booster Compliance Program
It's been about a year since the
Treasurer's Briefcase
team made our first visit to Steinert High School to help their booster clubs organize their finances.
Dave and the rest of our team at TBC explained to Steinert's booster clubs how they could easily become legitimate non-profit organizations. We spoke with over a dozen clubs back in December of 2012 and we're excited to tell you what's happened since then.
Of the 20 some clubs represented at the high school that night,
over half are now properly incorporated and registered
with both the State of NJ and have a 501(c)(3) designation under a group exemption. Way to go Spartans!
These clubs now have the tools they need to create fiscal transparency for their members, the Hamilton School Board and the community. As part of the Booster Compliance Program,
Treasurer's Briefcase
executed a step by step plan to make sure each club was legal and had the ability to manage their finances using
Treasurer's Briefcase
. Here are the services Dave and his staff provided for Steinert's booster clubs:
Helped them create or modify a compliant club charter
Registered them with the IRS as a 501(c)(3) booster club under a group exemption
Incorporated them with the State of NJ
Registered them with NJ's Division of Consumer Affairs as a charitable organization
Filed and obtained their sales tax exemption certificate
Provided setup and training assistance on Treasurer's Briefcase
In some cases, Dave's accounting firm
Lauer-Millen, CPAs
has been engaged to provide assistance on filing the IRS 990 returns.
Treasurer's Briefcase
will be rolling out a way for clubs and organizations to easily and cost effectively file their 990 returns using Dave's firm. We expect this feature to be available by mid-January 2014. Best of all the cost will be way below what you might expect to pay from your local CPA.
Since December of last year when we did our first Booster Compliance Seminar, we've presented to two other high schools in central NJ. We are continuing to work with those schools signing up new booster clubs monthly.
If you know of a high school that would like to have the TBC gang present our program,
please contact Dave Lauer at his office in Hamilton, NJ at (609) 586-3600
or email him at
dlauer@lauer-millencpa.com
.